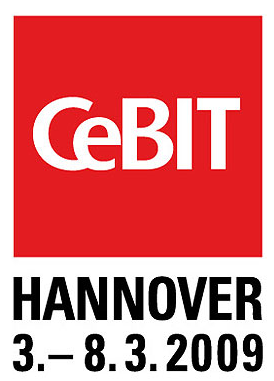 CeBIT Hannover, 3-8 March, 2009
Holografika shows up with its HoloVizio 3D display on CEBIT 2009 in Hannover
Normal 0 21 false false false MicrosoftInternetExplorer4 Holografika will be demonstrating its high-end HoloVizio 3D display on CEBIT 2009, in Hannover during 3–8 March.
CEBIT 2009 will provide a possibility for visitors from all over the world to see HoloVizio 3D displaying technology live. The specially built HoloVizio exhibition display on the corner of the Hungarian booth will be showing different 3D contents ranging from promotional items, 3D logos, CAD models, molecular design, oil&mining application datasets, MRI or CT volu
mes, architectural design; all presented in natural 3D. Viewers do not have to wear special glasses or head mounted equipment in order to see the real 3D images. The HoloVizio 3D display will offer a stopping-place place for visitors where they will be caught by the presented 3D image while passing by. The continuous motion parallax projected 3D image will make visitors understand the real difference that HoloVizio 3D visualization can offer.
Visit Holografika at the Hungarian booth in Hall 3, stand B51 to see the true 3D displaying live.
See you in 2010!